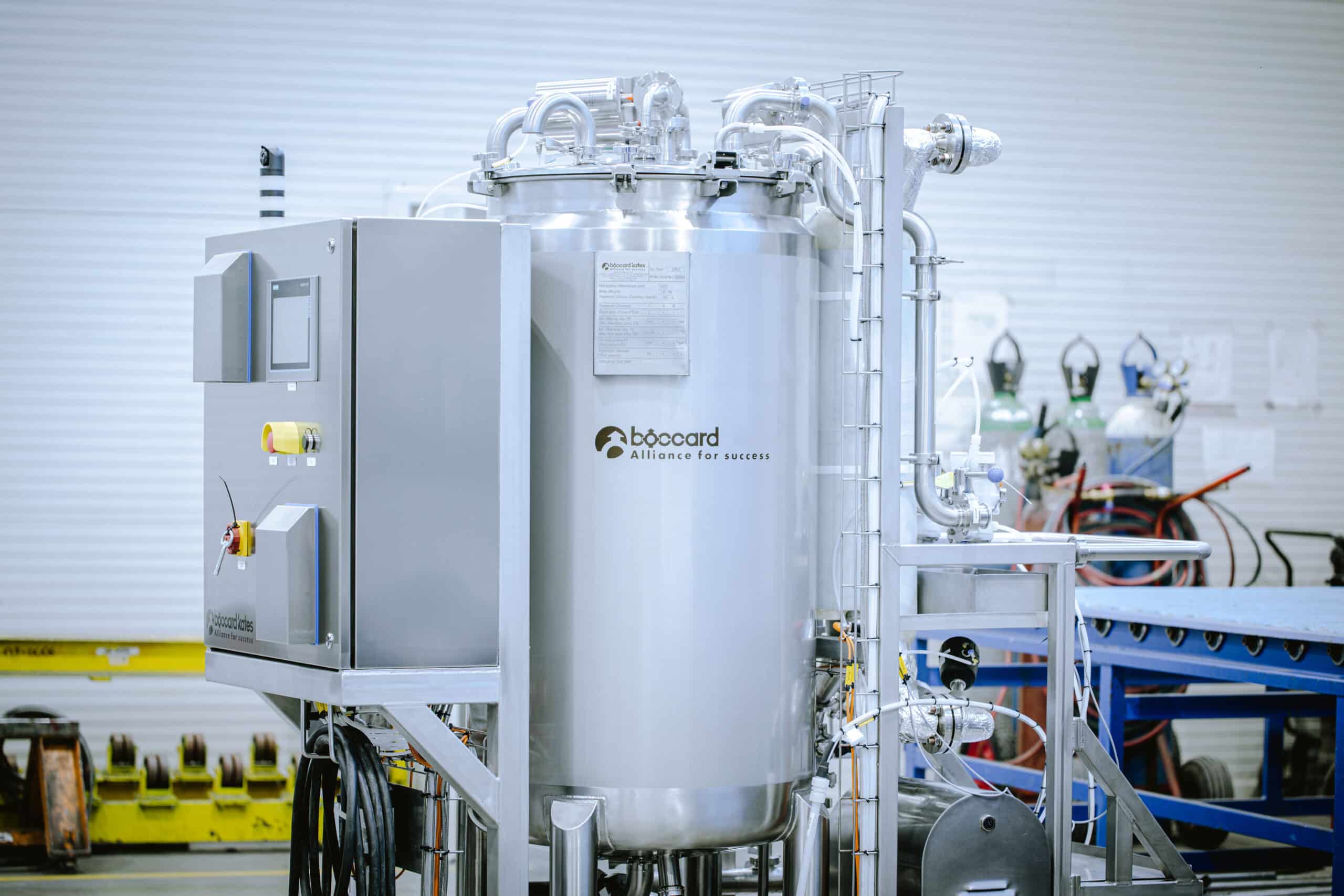 Industrial Cleaning and
Disinfection Stations (CIP & SIP)
Our expertise in industrial cleaning and disinfection solutions
The cleaning and disinfection of production equipment is one of the critical points of any industrial facility, especially those where raw materials are transformed into products for human consumption. To maintain and guarantee a high level of safety for the operators and the product, it is important to ensure that cleaning and disinfection are carried out correctly.
Automation of cleaning and disinfection processes is therefore essential and helps to optimize time and yields by eliminating time-consuming disassembly and reassembly work while speeding up product changeovers.
CIP/HPC and SIP systems guarantee a reduction in downtime as well as a guarantee of reproducibility of hygiene standards
From design to on-site installation
Our integrated CIP and SIP cleaning solutions play a central role in many process industries that require frequent and regular cleaning of equipment.
We have integrated design offices at our production sites and work with you to find the best solution in conjunction with the process experts in your specific markets. Our experts design your installations to ensure the most efficient and optimal cleaning for your applications.
Depending on their complexity, our solutions can be equipped with a dedicated control system with software that allows a high degree of automation of the process, increasing its efficiency and safety while reducing operating costs We also have our own digital process optimization solutions to achieve real savings in water and energy.
A wide range of cleaning and disinfection solutions adapted to your processes
Cleaning in Place (CIP) Solutions
Designed according to the type of contamination, size, complexity and location of the circuits. These automatic, or semi-automatic systems clean the internal surfaces of your installations with little or no disassembly. They allow to eliminate all manual cleaning operation tasks totally or partially, according to your predefined series of steps. Our CIP stations can be equipped with a thermal drying module for transmission lines and hot air devices.
Sterilization in Place (SIP) Solutions
Designed for automatic cleaning and disinfection without extensive disassembly and assembly work. This is the final, optional step, in the cleaning process and is mainly used in the pharmaceutical and food industries. The cleaning is done with steam and is carried out after the Cleaning-in-Place (CIP).
High Pressure Cleaning (HPC) Solutions
Designed for the cleaning of auxiliary elements of production lines. Some process elements, such as pipes, clamps, seals, valves and other disassembled equipment cannot be cleaned in place and require an off-site solution. A great advantage of these solutions is the ability to validate the cleaning process (we provide full documentation).
Why entrust us with the design and implementation of your cleaning and disinfection station?
We know and understand the mechanical factors that influence the cleaning process, which is why we pay particular attention to maintaining the appropriate flow velocity and turbulence.
Whatever the difficulty or toxicity of your substances (sticky, viscous, dense…) we can design a washing / disinfection project to eliminate all types of contamination.
Our washing stations can be realized as devices in accordance with the ATEX directives, which allow to work in a specific zone with risk of explosion, or as devices generating a zone using inflammable washing agents.
Discover our Solutions




For your

markets

and

industries
Our Customers




They

trust us