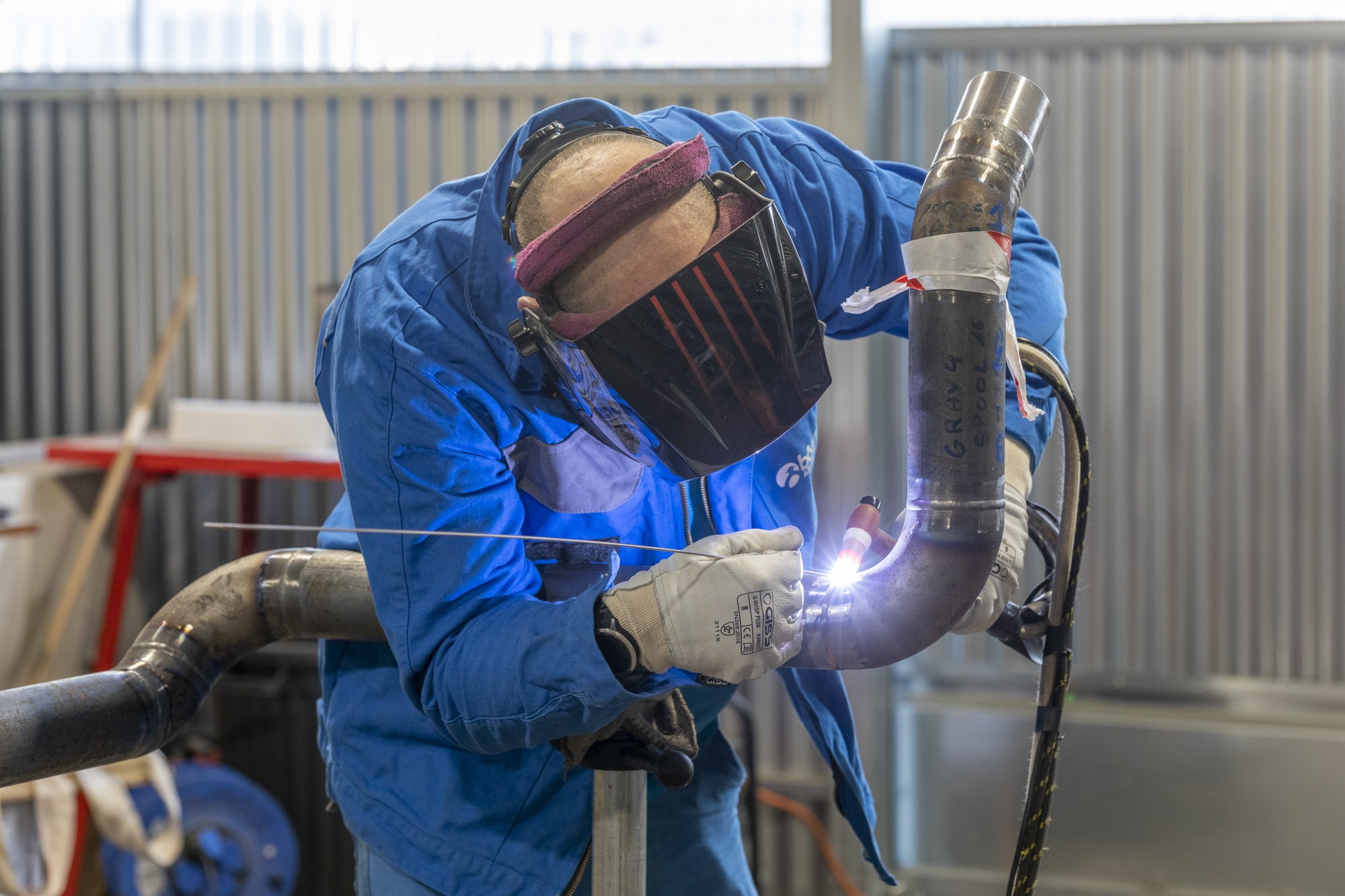 Our expertise in spool piping projects
The efficiency of an installation depends strongly on its ability to transport the fluid through the piping system towards the different equipment working collectively. One well-designed piping system is therefore crucial for any industrial installation and its creation requires systemic analysis and expertise in various engineering methods.
Boccard inhace your competitiveness by boosting your efficiency thanks to spools, skids and piping modules of superior quality, economical, and delivered on time.
"On Time. On Spec. On Budget": A Global Execution Strategy
Our teams have experience on industrial projects integrating fluid management in various sectors of activity such as oil & gas, energy, food processing or pharmaceutical
Our skills cover :
all types of work (welding, boiler making, piping)
all types of materials (copper, all types of steel, noble metals)
all types of fluids (natural gas, oil, hydrocarbons, special gases, water (all pressures and temperatures))
From engineering to delivery, our teams use the best practices and the latest technologies in the realization of your piping, skid and modular construction projects.
In particular, we have standardized project management and customer reporting across our global manufacturing facilities and on site. We use our Boctrack management system to manage engineering, materials, procurement, scheduling, reporting and billing. This software allows us to provide quality service by offering you a high level of traceability and real-time progress metrics that you can access at any stage of the project.
Solutions and services and high levels at competitive cost
We offer
standardized or tailor-made solutions for the manufacture of all types of supports, spools and pipes
as well as
for the special manufacture of pipes with internal coating, with double jacket, load arms, cryogenic modules,
etc
In addition, we offer you a range of study and design services to guarantee the success of your projects in complete safety and in strict compliance with the regulations and standards in your industries:
All metals used in the industry: carbon steel, stainless steel (304-316-321-347- Duplex and Super Duplex….);
All Chrome, Copper and Nickel alloys
Other non-ferrous metals (Aluminium, Titanium)
Full traceability of materials (material certificates available online), welders and production, through real-time progress reports accessible online.
100% visual and dimensional control. No rework on site. Electronic documentation.
MOBIL WORKSHOP CAPABILITIES
ASME Section IX, ASME Codes B31.1, B31.3, B31.4, B31.8
ASME Section I (certification PP, S)
ASME Section VIII (certification U)
API 1104, AWS D1.1, National Board
CODETI, CODAP/EN 13445
CEFRI E, UTO, RCC-M, ISO 9001
MASE
Mobilization of temporary/project-specific workshops to meet local content and optimized logistics
Mobilization/management of on-site workshops
Monitoring, management and support of local workshops
By opting for modular construction, the client significantly reduces the total installed cost: reduction of costly on-site work, difficulty in finding qualified personnel.
Why entrust us with your piping and spools projects?
RRespect for the environment and safety "Safety First"
Use of local manpower and optimized logistics: mobile workshop capacities
Qualified and dedicated workforce: mobilization of experts worldwide to support your projects
Centralized engineering and global execution strategy
Global sourcing and purchasing
Quality service at a competitive cost: transparency (Weld Unit system), flexibility with respect to our customers' priorities, on-time delivery
Quality: 100% dimensional control, no rework on site, electronic documentation
Proprietary software for project management and traceability: BocTrack
Discover our Solutions




For your

markets

and

industries
Our Customers




They

trust us