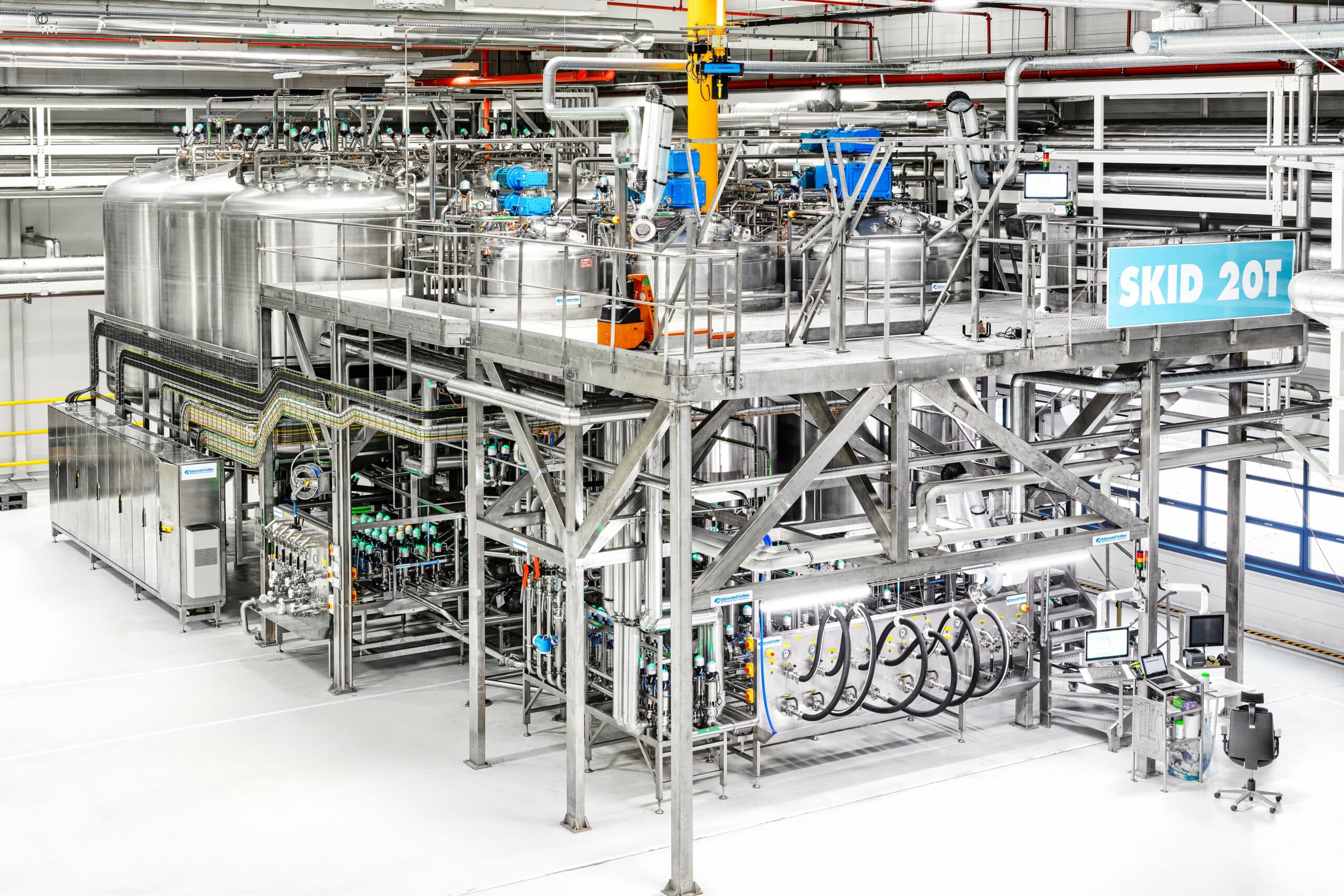 We prefabricate your modular skids in our workshops
We prefabricate your modules in our factories around the world. Our teams design and prefabricate, install, and modify your modular process skids or modules (process/rack) for your different markets.
Whether for new projects or integration into existing ones, small or large projects, we rely on our know-how in design, welding and instrumentation as well as on our numerous experiences in your different markets.
We operate in sectors in which we master the processes such as food, ingredients, pharmaceutical and biotech, cosmetics or even energy, metallurgy, petrochemistry and chemistry.
Design and prefabrication of your skids, super skids and process modules
Depending on the markets and applications involved we are equipped to prefabricate your skids and modules in the required materials. The custom design is based on the User Requirement Specification (URS) and the functional specifications.
We manage all the steps in our engineering offices, in our workshops and on your sites: design, prefabrication, welding, instrumentation and automation, assembly of the elements, on-site installation, user training and maintenance of your skids/modules.
The benefits of modular construction and prefabrication are significant
Modular design and manufacturing of our skids ensure total control of lead times thanks to a concept that dissociates the manufacturing process from the construction (for guaranteed manufacturing quality and traceability):
Equipment performance

:

all our modular skids are prefabricated and pretested in our workshops to guarantee quality and traceability of execution

Accelerated time-to-market:

shorter lead times, faster on-site installation, quicker start-up, minimal downtime when integrated into an existing installation

High-quality construction & traceability:

the system is built under ideal conditions in our workshops. Dynamic Factory Acceptance Tests (FAT) are performed by our trained and experienced teams. FATs are consolidated by SATs which allow us to reduce the installation time on site.

Economical:

skids are faster to build and transport, require less labor, do not interrupt ongoing operations, and do not require a plant shutdown.
Thanks to their ease of use, these skids provide a quick return on investment while simplifying maintenance, reducing production downtime and operational expenses.
We design to build (Design-Build)

We design facilities to ameliorate your TCO

and reduce your OPEX

We master the design methods for installations of various sizes and markets: from stainless steel skids for the pharmaceutical industry to multi-ton modules for the oil & gas industry

By choosing to invest in a skid/module you guarantee a reduced time-to -market
Discover our Solutions




For your

markets

and

industries
Our Customers




They

trust us