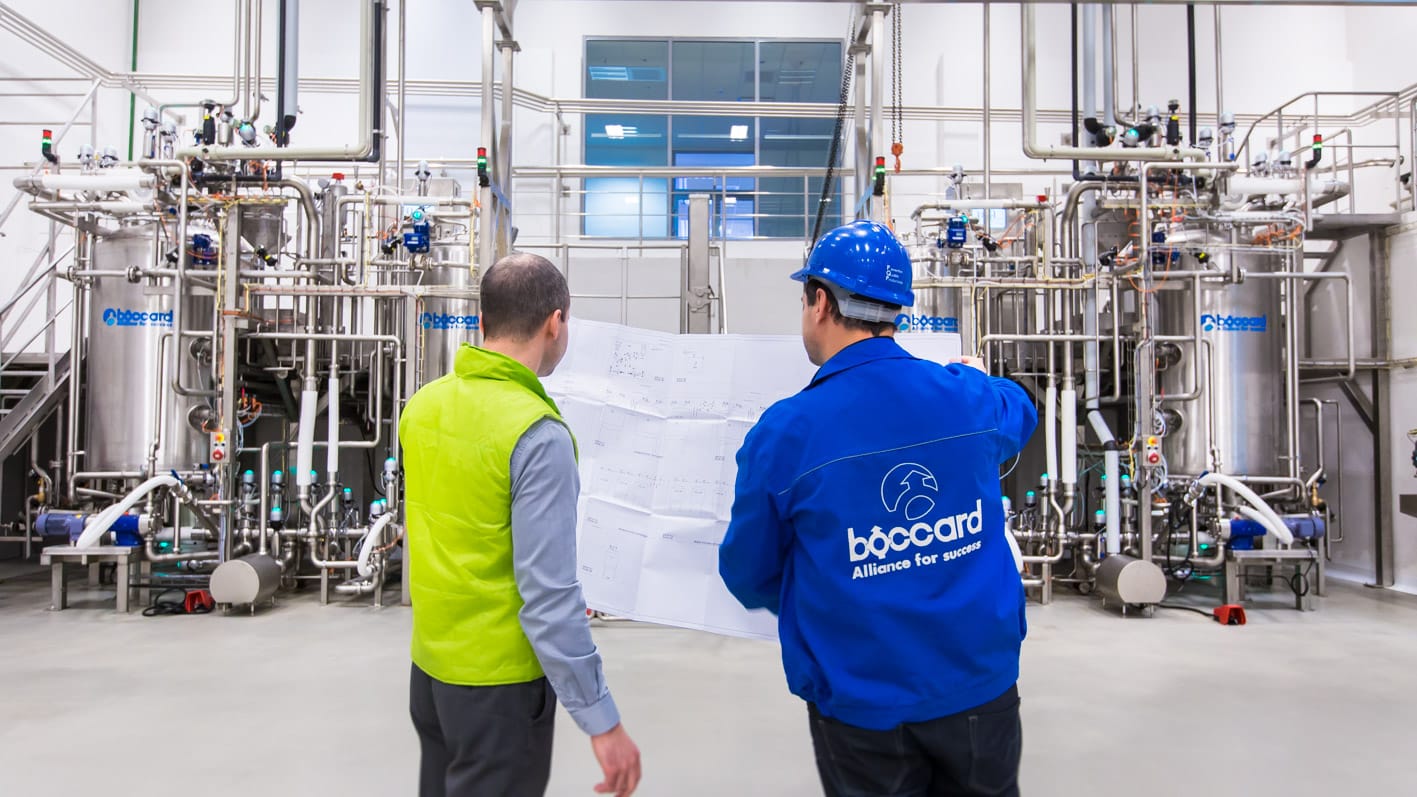 Construction -
New projects
Our expertise in construction & new projects
As an industrial integrator, Boccard is the unique interlocutor in your new construction project. On plan, with or without fabrication, we carry out the assembly and the installation of the production equipment and the infrastructure elements of your installation.
Boccard is mobilized to elaborate the best possible plan for your project by relying on teams composed of experts in many fields, as well as a network of finely selected subcontractors.
A multi-sector expertise to support your construction projects
Our experts support your projects, whether it is the manufacture of equipment that will be integrated into an industrial process defined by you, or the design, supply and assembly of a new unit integrating commissioning solutions.
Capitalizing on the gained experiences and multi-sectoral expertise, Boccard can implement the optimal operating methods to meet your requirements and the constraints of your installations (modularization, prefabrication in the workshop…).
To provide the best planning operations, we have implemented procedures and tools based on our core process model Boccard Project Management System (BPMS) allowing our teams to guarantee costs, deadlines and risk control at all stages of your project while involving your teams.
The rigorous application of best practices in terms of HSE management as well as project and construction management allows us to guarantee optimal safety for your organization, your employees and the operation of your facility..
We have numerous accreaditations and qualifications, including MASE and OHSAS 18001 certifications, attesting our expertise.
Solutions adapted to your needs
Directly on site as well as in our 10,000 m² workshop in France and abroad, we take care of all your general industrial construction project for new units or unit extensions (from greenfield to brownfield):
Detailed studies (isometrics, support plan, equipment plan…), calculation notes, project management and steering (methods, planning, procurement)
Construction and structural (frames, racks, supports ….) and mechanical installation
Operation of complex handling such as shifting, glassing, hoisting or lifting
Prefabrication, assembly, of equipment or machines (whatever the configuration : replacement or new elements)
Prefabrication, mounting, assembly, replacement of piping (whatever the configuration : replacement or new elements)
Painting, insulation, scaffolding
Electricity and instrumentation
Civil engineering
Pre-commissioning, start-up assistance, QP qualification,.
Why entrust us with your construction projects?
By entrusting your assembly project to Boccard, you benefit from comprehensive local support including project management covering all the required specialties.. This in a process of overall optimization (costs, deadlines) and compliance (safety, quality).
By choosing Boccard you benefit from:
The safety guarantee of your installations and the security of your worksites.
Specialized skills and important capacities of prefabrication and assembly in France and abroad.
An integrated solution from engineering to construction.
A partner capable of managing complex projects while respecting your quality, deadline and cost constraints.
Discover our Solutions




For your

markets

and

industries
Our Customers




They

trust us