The mixing process is a demanding and complex operation. To ensure the good proceedings of this operation, the Food & Beverage branch of the industry integrator Boccard has developed the versatile solution: MixturAll, a pilot unit designed to incorporation of powders.
INCORPORATION OF POWDERS: BOCCARD LAUNCHES MIXTURALL, A NEW VERSATILE SOLUTION
The constant quality and homogeneity of a product depend on the good performance of mixing operations Bad mixing may result in granular and heterogeneous products, and the presence of lumps (Fish-eyes). To fit the requirements of this process, the Food & Ingredients branch of Boccard Life Solutions offers manufacturers an innovative pilot vessel for feasibility studies and small-scale tests of mixtures: MixturAll.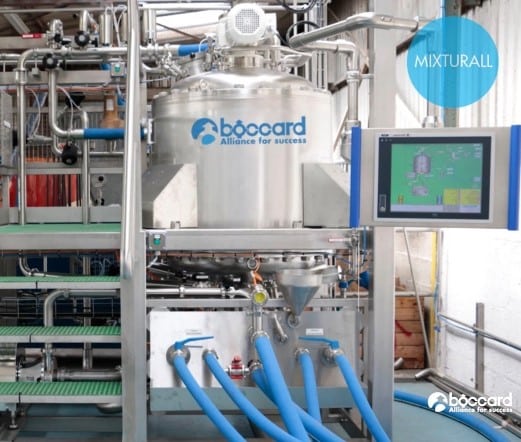 This 400-liters versatile unit is adaptable to all types of mixtures (emulsion, dispersion) and allows heating and cooling products according to the needs.
It has many advantages both in terms of productivity, flexibility and ergonomics:
MixturAll integrates several modes of incorporation: bottom incorporation using a liquid ring vacuum pump limiting the formation of lumps, top incorporation and the use of the manhole.
The solubility of ingredients is enhanced thanks to the heat transfer
The suction system permits the acceleration of the incorporation of ingredients and powders hydration kinetics.
The combination of three agitators (scraping, bladed and rotor stator) allows all kinds of mixtures.
Manufacturers of Food & Ingredients industries can benefit from a solution tailored to their needs in terms of efficiency and power and then limit losses during the incorporation of powders and the draining of the tank.
MixturAll, fits the needs of industry and provides the best solution for each powder mixing application with a gain of time. The pilot unit is available for rent directly on the site or in the headquarters of Boccard Food & Ingredients, specialist in process solutions in the food industry in Montauban, France.
« MixturAll gives manufacturers the opportunity to test a versatile mixing tank designed by Boccard with a real product and get results extrapolated to an industrial scale. »
SUPERVISOR OF THIS PROJECT AT BOCCARD LIFE SOLUTIONS