The Boccard teams were involved in the design phase as well as in the studies and turnkey construction of two treatment lines designed to transform the sodium from the primary and secondary circuits into a chemically stable form (hydrogen and soda).
The Creys-Malville power plant was a "SUPERPHENIX" fast neutron reactor (RNR) with a power of 1240 MWe. Commissioned in 1986, it was shut down permanently in 1997. To date it is the largest nuclear reactor in the world that is being dismantled. The size of its vessel is six times larger than that of the EDF reactors currently in operation.
From 1999 to 2007, the fuel was unloaded and the non-nuclear part of the facility was dismantled. From 2007 to 2017, the sodium removal phase followed. Since 2017, the dismantling operation has included the elimination of the radiological risk, the opening of the tank, the removal and cutting of the three plugs that enclosed it, and then the dismantling of the tank internals. The end of dismantling is planned for around 2050.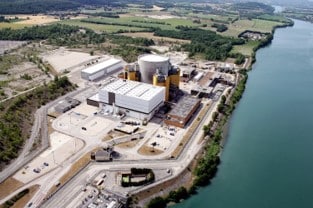 5,520 tons: the impressive quantity of sodium to be treated!
1,240 MWe: the power of the reactor
Our Customers




They

trust us